A Life

Antranig "Andy" Aharon Boghosian, 1930-2017
By Jared Pendak, Valley News Staff Writer (Monday, September 25, 2017)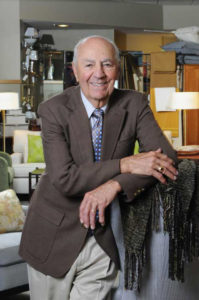 West Lebanon — During the later years of his life, Andy Boghosian was happiest when he was with any of his four grandchildren. When he couldn't be, almost anyone else would do.With a gregariousness matched only by his acumen for mechanical detail and design, the longtime engineer and proprietor of the successful Gilberte Interiors Inc., made everyone he met feel as though they'd just made a new friend.
That's because they had, at least as far as Boghosian was concerned.
"He was very fond of people, and he genuinely wanted to know about them and who they were," recalled Gilberte Boghosian, Andy's wife of nearly 64 years. "If you had plans — and we often did, because he always wanted to go do things — if he got there before you, by the time you arrived he would be saying, 'Gilberte! I want you meet so-and-so.' That's how quickly he made friends."
Boghosian's first impressions had a way of leaving their mark on those he encountered. That became obvious during the responses the family received after he died of complications related to heart arrhythmia in February at age 86.
One of Boghosian's granddaughters, Morgan Roth, recalled the heart-felt messages left by those who had even a passing association with her grandfather.
"On the (funeral home) website where people could offer their condolences, there were a couple from people who had met him 20 years or so ago, just people from the Upper Valley that he only met once or twice," Roth said. "But he had left such an impression that all these years later, people still felt a kind of connection with him."
The third of four sons of Armenian immigrant parents, Boghosian was born and raised in Concord and developed a sportsman's love of the outdoors — particularly hunting and fishing — as a youth. After high school, he served in the U.S. Navy reserve during part ofthe Korean War era, though he was never deployed. After completing training in Illinois and arriving back in Concord, he enrolled at New Hampshire Technical Institute to study engineering and, during his senior year in 1953, was matched on a date to a dance with Gilberte. They were married only a few months later, though it took some cajoling.
"We went to a dance and I didn't really like him that much," Gilberte said with a smile. "But he was persistent. Before I knew it, we were doing everything together."
The Boghosians landed in the Upper Valley in 1958 when Andy accepted an engineering job at Split Ball Bearings (now Timken Aerospace). With an afnity for mechanical tinkering that was equally evident in the household, Boghosian became chief plant engineer and stayed at the company even after Gilberte Interiors, founded in 1967, began to succeed.
"Dad had a great eye for detail, and anything could be fixed, whether it was at home or at work," said son Aharon Boghosian. "With Split Ball he worked on a lot of important projects, stuff like precision bearings for the federal government's red eye missile project. His forte was always production oriented."
During a hunting trip in northern New Hampshire one winter, Boghosian noticed that his toothbrush, after resting in water in a frigid cabin, broke clean in half when he tapped it against the sink. He had a "Eureka" moment and excitedly phoned his brother, Charles, a physicist involved with cryogenics at Duke University.
"The toothbrush made him realize he could fracture the bearings at Split Ball using liquid nitrogen," Aharon Boghosian said. "He and his brother developed the system together and didn't tell anybody, just started using it, and they noticed that a lot of the bearings being cut the old way were being tossed aside because the ones they cut were coming out so much more precise. Needless to say, they changed over to a liquid nitrogen based system."
He left Split Ball in 1975 and directed his exceptional design, craftsmanship and sales skills entirely to the family businesses, which today is still run from its original headquarters on Allen Street in Hanover by Aharon Boghosian and his sister, Cheryl.
"When he started working full time for the business is when it really took off," Aharon Boghosian said. "He built trust with a lot of people, because he was so friendly and personable, but especially because he was very honest and never took short cuts when it came to jobs and projects … He would keep at it until it was done right."
Andy Boghosian remained involved with the company well into his elder years, though he eventually spent more time with his four grandchildren — Adam, Morgan, Nathan and Rachel — and pursuing sporting passions such as fshing, tennis and golf.
Adam Boghosian, a former three-sport athlete at Hanover High who went on to play football and lacrosse at St. Lawrence University, said his grandfather was at almost all of his games, home or away.
"It didn't really matter what the event was, he was going to be there," said Adam Boghosian, 29, the oldest of the grandchildren. "I remember back in fourth grade there was something where I was reading aloud to the class, and he was there for that. He was of the older generation where he was big on face-to-face interaction, so we got a lot of that with him. He'd bring us out on Lake Mascoma to go fshing where there was nothing else to do except talk, and it was great quality time. You always felt like you were No. 1 when you were with him."
Andy Boghosian became particularly fond of golf, beginning in the 1990s at Carter Country Club and later becoming a regular at Hanover Country Club.
Lebanon native and Dartmouth men's golf coach Rich Parker, who instructed some of Boghosian's first lessons at Fore-U Golf Center in West Lebanon and remained friends with him, admired how much a student of the game Boghosian became.
"He was like sponge. No matter what you told him, he was going to try it and work it into his game," said Parker, who recalled Boghosian wearing two gloves when he started to play. "If he had one regret in life, it's probably that he didn't start playing sooner because he really loved the game."
Boghosian became such a mainstay at Hanover Country Club that the facility dedicated a bench in his name where he always started his mornings — at the practice area.
"I saw him almost every morning for 12 years, and he was never in a bad mood," said Alex Kirk, Hanover Country Club's head pro and the Dartmouth College women's golf coach. "He was a competitive guy, but it was obvious he was just happy to live life."